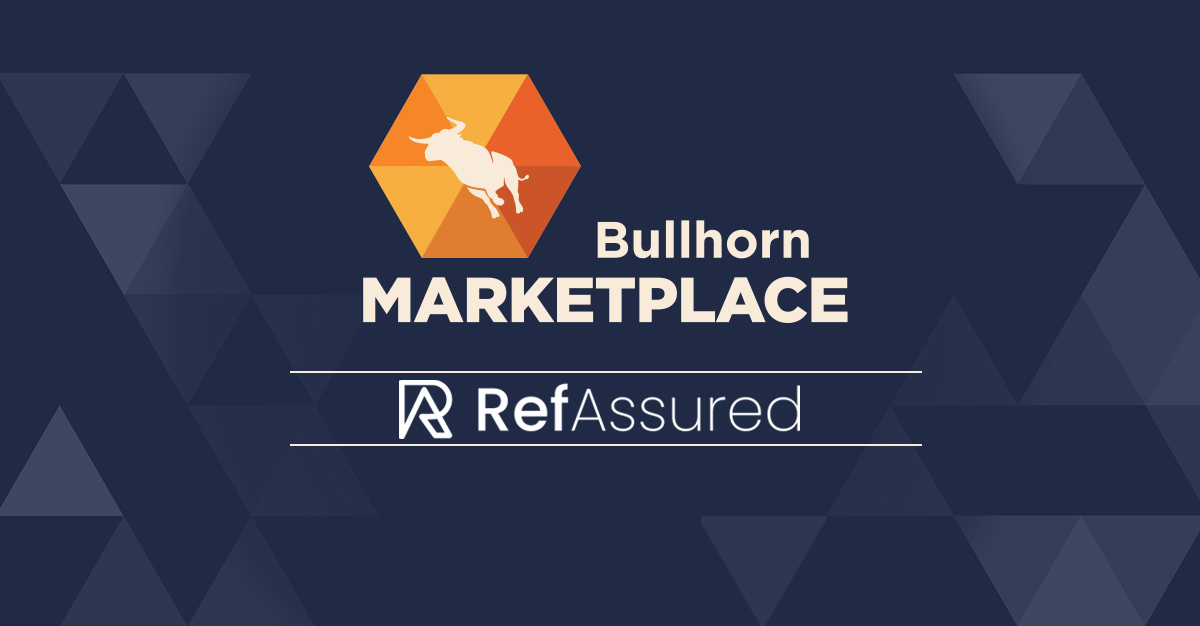 RefAssured joins the Bullhorn Ecosystem to help staffing and recruiting companies grow faster.
Boston - May 30th, 2023 – RefAssured, the leading provider of automated reference checking software for staffing, is excited to announce, at Bullhorn Engage 2023, its integration with Bullhorn's widely acclaimed applicant tracking system (ATS), customer relationship management (CRM), Talent Platform, and Bullhorn for Salesforce. As the newest marketplace partner to Bullhorn, this collaboration brings powerful reference checking capabilities directly to Bullhorn users, revolutionizing the candidate evaluation and selection process.
With RefAssured seamlessly integrated into Bullhorn's platform, users can access every part of the RefAssured solution to initiate reference checks, view comprehensive reference reports from candidate and job profiles, contact newly auto-generated warm client leads and talent profiles, and more.
"We are thrilled to partner with Bullhorn and integrate RefAssured's cutting-edge reference checking capabilities with their robust ATS, CRM, and talent platform," said Nishad Amin, Co-Founder and COO at RefAssured. "This collaboration represents a significant step forward in enabling staffing agencies to truly measure if their candidates can 1) do the job and 2) do the job well. The result is greater efficiency, accuracy, and confidence in their hiring decisions."
Key Benefits of the RefAssured and Bullhorn Integration:
Enhanced Productivity: By eliminating manual reference checking processes, recruiters can save valuable time and focus on more strategic tasks, ultimately increasing their productivity and accelerating the hiring process.
Improved Candidate Experience: Streamlined reference checks lead to a smoother and more engaging candidate experience, demonstrating a commitment to efficiency and professionalism.
Data-Driven Decision Making: Access to accurate and verified 3rd party reference feedback enables recruiters and account managers to make data-driven hiring decisions, minimizing bias and increasing the likelihood of successful placements.
Seamless Workflow Integration: RefAssured seamlessly integrates within Bullhorn's ATS, CRM, and talent platform, providing everything from a best-in-class user experience to receiving new client and talent-facing opportunities that influence real revenue growth.
"We quickly implemented RefAssured's integrated offering with Bullhorn and efficiently put it into operation. The process was effortless yet yielded remarkable results, paying for itself within just six weeks. Moreover, we experienced noticeable improvements in turnaround times for candidate submissions to interviews and a significant reduction in contractor falloffs. The enhanced quality of hires achieved through this solution should be a paramount focus for every agency, particularly during times of economic uncertainty." Jon Barbato, Vice President at Synergis
The integration of RefAssured with Bullhorn's suite of products solidifies RefAssured's commitment to delivering innovative solutions that empower recruiters and account managers, streamline processes, and drive success in the staffing industry.